A large area of eastern Prince Edward Island, encompassing both New Harmony and Glencorradale, is known locally as the Glen. It is a large uninhabited area located east of Souris, PEI, which stretches from approximately Souris Line Road to East Baltic, bordered on the south by East Point road and on the north by Route 16 (the North Side road).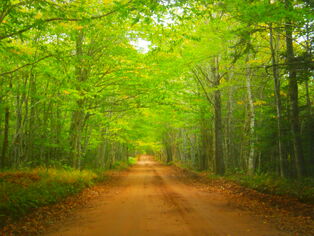 To reach the Glen, one may travel east from Souris on St. Catherine's road, taking a left turn at the end of the road onto the New Harmony Road.
Noteworthy Aspects
Edit
The Glen is home to a large American Elm, widely thought to be the largest tree in the province (PEI Government, Glen Road). Known locally as the "Big Tree " or the "money tree", it takes several men to reach around it.
A majority of the Glen is wooded, a mix of hard and soft wood, and features a demonstration woodlot which is open to the public (PEI Government, New Harmony Road). Several particularly heavily wooded areas of the Glen have come to be known as "the canopy". These canopies had at one time been referred to as "lover's lane". The most frequented canopy can be found on the New Harmony Road, heading north upon entering the Glen from St. Catherines. Two other canopies exist in the Glen, one on Glen road and one on the Kelly Road, both towards the north end of the Glen.
Also located in the Glen is a small spring just off of Fountian Head road, sensibly named Fountain Head. The spring has a small platform built over the water, and visitors can walk out and drink from the water. 
Furthermore, the Glen is rumored to be home to the "Wookalark", a half-man half-pig humanoid creature which haunts the woods and causes havoc amongst travellers. 
References
Edit
PEI Government. Island Information: New Harmony Road. Web. 8 Feb 2013. http://www.gov.pe.ca/infopei/index.php3?number=3553&lang=E
PEI Government. Island Information: Glen Road. Web. 8 Feb 2013. http://www.gov.pe.ca/infopei/index.php3?number=3552&lang=E&lat=46.43882&long=-62.19975
Community content is available under
CC-BY-SA
unless otherwise noted.