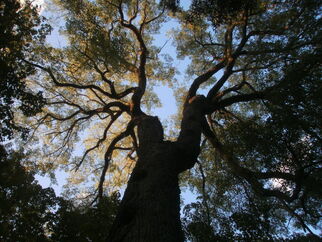 The Big Tree, also known as the Money Tree or the Wishing Tree, is a large American Elm, reputed to be the largest tree on the Island, which grows just North of the Glen Road (PEI Government).
Age
[
]
The exact age of the tree is uncertain, although it is rumoured to be over 500 years old (The Big Elm). Recent core drilling of the tree has revealed evidence of it being burnt many years ago when it was young. A forest fire which burned in Eastern Prince Edward Island from East Point to the Hillsborough River in June 1742 (Townshend, 6) may have been the cause for this charring, in which case such rumours of age may be true.
Folklore
[
]
watch out for the wookalark >:)
References
[
]
PEI Government. Island Information: Glen Road. Web. 8 Feb 2013. http://www.gov.pe.ca/infopei/index.php3? number=3552&lang=E&lat=46.43882&long=-62.19975
The Big Elm. Island Narratives Program. Web. 8 Feb 2013. http://vre2.upei.ca/cap/node/684
Townshend, Adele. Ten Farms Become A Town. Town of Souris: 1986. Print.