In 1724 the first of Souris Mouse Plagues began, the first of about a dozen outbreak which would be recorded over the next 90 years, wherein plagues of mice would devastate crops in the area.[1]
It is known that the mice were a constant problem. During the long winter months, when there was ample snow cover, the female mice could bear a litter of ten to twelve mice every six weeks. These numbers could explode over successive snowy winters[2], and when spring came, the mice left the forest and ate everything in their path. It is said that rivers were choked with dead mice, slowing down ships as they passed, although there is no known documented source for this claim.[3]
There were four mice plagues between 1724 and 1749 alone. Each time this happened the French settlers had to rely on the fort at Louisburg, Nova Scotia for provisions.[3]
It is not known precisely when Souris and Souris harbour was named for the french souris or "mouse" in English, although it is known that it was named as such by a French ship after encountering the aftermath of one of the plagues.[1][2] The name does appear as Cap de la Souris in a reference from 1752[4]
After we leave these lakes [East Lake and West Lake - ? now South Lake and Basin Head Pond], the land is thinly settled, and the woods at present much infested with mice; but when the lands get more cleared, this evil will be less prevalent. The next place we arrive at is called Colville Bay upon the map, but Souris, or Mice, by the French,who are the settlers here. Johnstone, Walter (1822) A Series of Letters Descriptive of Prince Edward Island in the Gulph of St. Lawrence. J. Swan, Dumfries. 72 pp Letter Fifth, Charlotte Town, July 30th, 1821.
http://www.islandlives.ca/fedora/repository/ilives%3A266852-2b/PDF/ilives%3A266852-2b/Full%20Text.pdf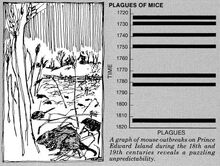 Community content is available under
CC-BY-SA
unless otherwise noted.