Rollo Bay Flats is an expansive area comprising the low-tide zone of Rollo Bay proper, extending from Lower Rollo Bay, southwest towards Fortune, and narrowing in the west just below the bottom of the St. Charles Road.
These flats draw many visitors; Rollo Bay beach, as well as a small beach below the Bear River Road (sometimes known as the Duck's Landing beach) are popular in the summertime. A colony of seals rests on the flats at low-tide, attracting spectators and photographers, and the entire area is known for its abundance of clams.
Clam Digging
[
]
The area is known for its abundance of clams, and people can often be seen walking the flats at low-tide in search of clams.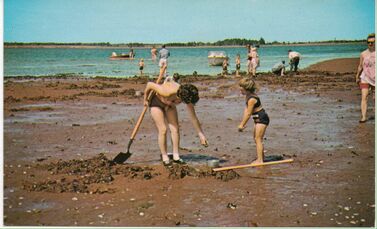 Rollo Bay - Fortune Low Tide Shortcut
[
]
The Rollo Bay-Fortune Low Tide Shortcut was a shortcut which connected Rollo Bay, at the bottom of the present-day Peters Road, with Fortune, around the area north of the front beach (known as the Cape Field), during low tide. This shortcut is referenced in Meacham's Atlas, and appears in other written reference and memoirs.
Low Tide
[
]
To this day at low tide a vast expanse of sand-bar flats is exposed in this tidal basin, known as the Rollo Bay flats, and Fortune is presently separated from Rollo Bay during low tide by a narrow channel of water, estimated to be about 20 feet deep and 30 feet wide. Without this channel, the low tide short cut would still be possible today, however the channel in its present form prevents it.
It is unknown how deep or wide the channel was in years past, or how that particular part was traversed.
Ice Road
[
]
During the winter, this shortcut saw extensive use as an ice road as well. By crossing from Fortune to Rollo Bay this way, one could cut hours off of a trip to Souris. Bushes and trees were used to mark areas of safe, thick ice which was fit to be crossed upon. It was also during the winter months that houses would be moved across the ice, often into Souris, as it provided a more direct route, and as well offered a smooth gliding surface with no hills or obstacles.