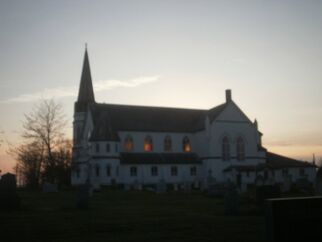 The Rollo Bay Bell, also known as the Acadian Bell, is the most prominent French settlement artifact remaining on the Island. It is currently kept in St. Alexis church in Rollo Bay[1].
The Rollo Bay Bell was forged in France in 1723[2] and was originally hung in the chapel of the church in St. Peter's Harbour, until the French were attacked by the English in 1758[3]. In order to protect the bell from plundering by the English troops, the bell, along with other items from the church was hurriedly buried in a nearby field in hopes of avoiding detection.
The bell was long lost and forgotten, until it was rediscovered 113 years later, in 1870, by a farmer named Mr. Barry of St. Peter's Harbour who was ploughing the field[4]. Mr. Barry's plough struck something metallic and upon further investigation it was revealed to be the bell, which had been buried unspoiled for over a century[5]. Mr. Barry presented the bell to the parishioners of Morell, and those parishioners then exchanged the bell with the parishioners of Rollo Bay for their new bell[6].
According to the Mission of St. Alexis, there was a great desire by all parishioners to ring the bell, and they did. As a consequence the bell was cracked and had to be re-cast[7]. It was sent to Meneely & Co. of West Troy, New York to be repaired, and finally, in 1882, it was placed in the tower of St. Alexis Church and it remains there to this day[8].
Inscription
Edit
Engraved upon the bell is the following:
Jesu + Marie + Joseph + P. Cosse m'a fait, - Michelin 1723. In 1870 Je fus retire des ruines d'une Eglise d'un Ancien Village Acadien I.P.E. En 1882 les paroisieus de Rollo Bay me firent refondre par meneely et Cie de West Troy N.Y. en souvenir de leurs ancetrees de L'Acadie[9]
References
Edit
http://www.stpeterslanding.com/bay.html
http://pointseastcoastaldrive.com/things-do/entry/st.-alexis-church-acadian-bell
Community content is available under
CC-BY-SA
unless otherwise noted.