Rolla Bay lies just west of Souris, and is noteworthy for St. Alexis Church, the former Rollo Bay Consolidated School, the Rollo Bay Inn, as well as the Rollo Bay Bluegrass Festival and Rollo Bay Fiddle Festival. It is also home to several small beaches. 
Rollo Bay, previously Rollo's Bay or Lord Rollo's Bay, is named after Andrew Rollo, 5th Lord Rollo, who was a Scottish army commander in Canada and Dominica  during the Seven Years', who led the British land forces in the Capture of Dominica  on June 6, 1761[1].
Fortunately, Mary recovered. But 5 in Souris and 53 in Charlottetown died during that bout with the disease. In an earlier epidemic in 1849, the school at Rollo Bay was used as a temporary hospital. It was burned afterwards by order of the Board of Health.20 Mary Welsh was the only patient ever in the Marine Hospital which is, today, the home of Mrs. Harold Croucher. Townshend 100
3 mi W of Souris in Lots 43 and 44. PO cl 854-1888 and 1896-1904. PO Cross 1873-1904; PO Rollo Bay Centre 1904-1914; PO Rollo Bay West 1904-1914. School districts in 1880 were Rollo Bay East and Rollo Bay West. See also Lower .
: Adjacent to Northumberland Strait , Lots 43 and 44. Named by Samuel Holland 1765 for Andrew Rollo (1700- 1765) 5th Lord Rollo, who took PEI from the French 1759, and later distinguished himself in the capture of Canada and in fighting in the . De la Roque 1752 Havre a Mathieu. Pichon 1760 Anse-a-Matieu. Turin Mathieu had a family of ten near East Point in 1752. He had been there since 1719.
Rollo Point: Extends into , Lot 43. Meacham 1880 Rollo Point with William A. Aitken at the point; Cundall 1851 Aitkins Cape.
Lower Rollo Bay, which is today considered to be anything along the Lower Rollo Bay road, was also known as Rollo Bay East. PO Lower Rollo Bay 1888-1904; PO Rollo Bay East 1904-1914. When the name of the post office was changed in 1904 the postmaster reported that "Lower Rollo Bay is done way with, belongs to ancient history, an anachronism so to speak". However, the old name still thrives long after Rollo Bay Easthas disappeared.
Attractions
Edit
St. Alexis Church is located in Rollo Bay.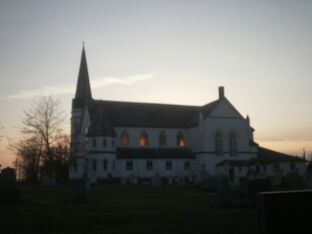 Natural Attractions     
Edit
References
Edit
↑

Wikipedia
http://en.wikipedia.org/wiki/Andrew_Rollo,_5th_Lord_Rollo
Community content is available under
CC-BY-SA
unless otherwise noted.