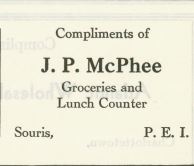 MacPhee's Save Easy is the largest grocery store in Souris. It is owned by Alan MacPhee, and Pat O'Connor is the manager (MacAulay).
MacPhee's Save Easy, locally referred to as the Save Easy or the IGA, prides itself in making many of its fresh products from scratch, including their biscuits, cookies, tarts, scones, and some muffins (Ross).
Section heading
Edit
Write the first section of your page here.
References
Edit
MacAulay, Charlotte. "MacPhee's Save Easy in Souris up for national award." The Graphic. 9 Nov. 2011. Web. 
Ross, Heather. "MacPhee's Market Save Easy prides itself in baking from scratch." The Graphic. 5 March 2013. Web.
Community content is available under
CC-BY-SA
unless otherwise noted.