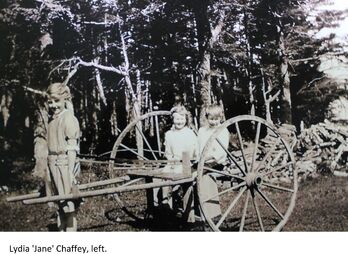 Lydia (Jane) Paton (nee Chaffey) was born 13 July 1882 in Annandale, PEI (noted elsewhere as being born in Little Pond) and died 4 May 1967 according to her gravestone,( although other sources indicate that she died 5 April 1967), in Rollo Bay. She was buried in the United Church cemetery in Fortune, Prince Edward Island.
Lydia had eight siblings, including Gertrude (who married a Palmer), and Elizabeth (who married a Dingwell).
Lydia's parents were Joseph Chaffey and Flora MacDonald . She married Andrew Paton and together they had five children, Jessie, Andrew Jr., George , John and Flora.
http://familytreemaker.genealogy.com/users/b/a/n/Noreen-V-Banks/WEBSITE-0001/UHP-0436.html
http://www.theblacketts.com/tree/family.php?famid=F3210&ged=Benjamin%20Blackett%20of%20Stepney
Community content is available under
CC-BY-SA
unless otherwise noted.