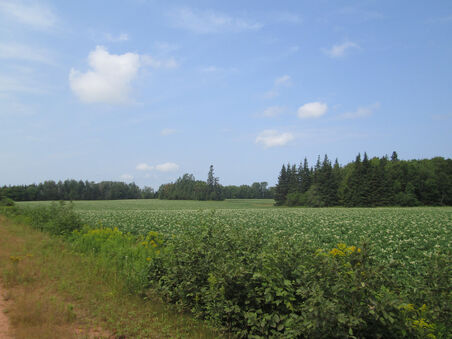 This article is about the specific geographic collective known as 'Glencorradale'. See 'The Glen' for information regarding the area as a whole. 
Glencorradale is a locality situated to the north east of Souris. It is uninhabited and consists primarily of farm land. 
The area was once a prosperous location, home to a mill and two blacksmith shops as well as numerous farms. Residents of the area proudly displayed fine horses and wagons which were symbols of their own wealth. Today only the defunct shingle mill remains (Island Information).
According to Rayburn, Glencorradale was named after a resident of the area, a Mr. Haney of Souris Line Road, rose in opposition to an oppressive landlord with the support of his neighbours. Upon hearing about this the government sent soldiers to restore calm, and the uprisers took to the area of present day Glencorradale to hide (67). 
This event recalled in the minds of the uprisers the time in which Prince Charles hid at Glen Caradel on the Isle of Skye after his defeat at Culloden. Noting the similarities, settlers to the area from Inverness, Scotland in 1846 chose the name Glencorradale for the locality (Rayburn 67).
In JHA 1856. Meacham 1880 has West Baltic for the school. POcl 884-1914.
Glencorradale School
Edit
One teacher was Miss Josephine Grady in 1914 (link)
PEI Government. Island Information: Glen Road. Web. 8 Feb 2013.
Rayburn, Alan. "Geographical Names of Prince Edward Island. Energy, Mines, and Resources Canada. Ottawa, 1973. Print.
http://www.islandlives.ca/fedora/ilives_book_viewer/ilives%3A190999
Community content is available under
CC-BY-SA
unless otherwise noted.